By the end of the month, many of us run around for money even for daily expenses, which is an intimidating sign that we are going through serious financial problems. Money problems are common to everyone. One or two outstanding debts here and there are bound to happen and are not a tough task to deal with. The annoying situation is then when you are struggling to meet both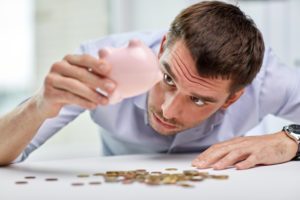 ends. The fact that regular bills and expenses are also becoming a burden puts a person in an embarrassing situation all resulting in anxiety and sometimes depression. Hence it is incumbent on the person to analyse his/her financial situation and take necessary help before it gets too tough to handle.

How can you know that you are in trouble?
Certain behavioural aspects indirectly indicate that you are in the troubling situation. Check it yourself.
If you are always borrowing money to meet your regular expenses.
If you are unable to pay your regular bills like house rent, groceries etc. in the first week.
If you keep constantly keep getting calls from creditors.
If you use your credit card more often than necessary.
If you cut on groceries, vegetables and other common essentials in order to adjust money to other payments.
If you use one credit card to pay the outstanding amount of another
If you have sleepless nights because of money fears.
If you are avoiding activities that you used to enjoy like hobbies, meeting friends.
You are avoiding discussing money matters with your thick and thin.
All or most of these are the symptoms of debt problems. If you think you are unable to help yourself, then seek the advice of professional counsellors. They can help you in dealing with financial issues with comfort and find an easy way out for the problem.  There are many debt management companies these days which professionally tackle the situation and offer a one stop solution.
Debt management companies – what do they offer?
They assess the complete financial situation of the indebted.
They offer a repayment scheme that is financially viable and legally permissible.
They calculate the asset and liability value and offer the best possible solution.
Offer a monthly payable and affordable budget to overcome the existing situation in minimum time.
Help in the repossession of assets if possible.
Provide adequate counselling to bring you out of anxiety and depression and raise new hopes of leading a happy life.

In order to achieve the most of their services, the customer or the indebted should be able to do the following things:
To be fair enough in revealing his/her complete financial situation.
Show the debt counselor all the documents including incomes, salaries, bonuses and debts.
Pay the registration fee and debt counseling according to the standards of the company.
Stay in touch with the counselors without avoiding them or getting frustrated with them.
Provide them with all the information and agree to the payment instalments on prescribed dates to the creditors.
Agree to the conditions laid by them like surrendering assets if necessary, handing over credit cards and asset documents if requested.
It is better to take professional help to help yourself come out of the situation of debt problems without much outcry from creditors.